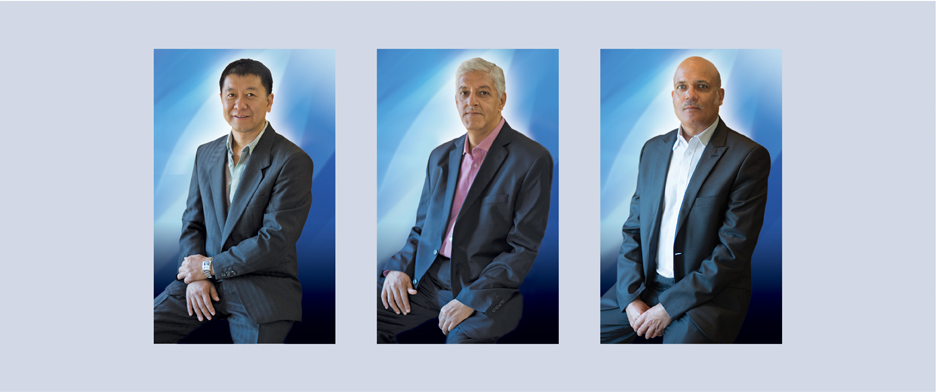 Eric Luk
Chief Executive Officer (CEO)
B.Com. (WITS), B.Sc. Hons (UNISA)
Eric Luk, Co-Founder and CEO of Kabetech, plays an integral role in procurement and managing client accounts and programs. He graduated from the University of the Witwatersrand (Wits) with a B.Com degree in 1984, and in 1988 completed a BSc (Hons) in Business Information Systems at the University of South Africa (UNISA).
Eric worked for Commercial Union where he became a project leader of Individual Life Information Systems. He gained invaluable IT experience and expertise, as well as comprehensive knowledge of the insurance and financial services industry. Eric managed key individual life projects and pioneered the design and implementation of the Commercial Union PC based Life Quotation System for CU Life, based on complex actuarial functions, which was distributed countrywide to brokers in the early 1990 s.
In January 1996 Eric started his own IT consultancy and contracted his IT services and expertise to Standard Bank SA and the Johannesburg Stock Exchange (JSE).
Eric s last appointment was that of senior IT consultant at Standard Bank, where he was a key applications technical specialist in the ATMs production support IT division. He also developed and consulted on many ATM projects for the bank.
Eric is focused and committed to continuously enhance Kabetech s services and products to deliver consistent value to our clients and resources.
Behram Camay
Executive Director
B.Sc. (WITS), B.Sc. Hons (UNISA)
Behram Camay is the Executive Director of Kabetech. As a founding member as well, Behram has been key and instrumental to the successful implementation of our significant achievements to date. With his IT technical skills, his vast IT management experience and diverse IT research and studies, Behram brings valuable expertise to the management team.
After completing his undergraduate degree in 1982, Behram joined the financial services industry as an application developer. His relentless determination to meet demanding standards and his indisputable technical ability ensured his swift advancement through the ranks of the IT department. Behram's IT management and consultancy experience has also been served at CGU, SARS and ABSA. He is currently appointed as a Business Intelligence manager at Mutual & Federal.
With nearly three decades of experience in the IT industry, Behram has developed a wealth of knowledge. His expertise and experience span the entire spectrum of the industry.
Charles Williams
Director
Charles Williams, Director at Kabetech, manages the Kabetech operations, including management and support of clients and resources, as well as recruitment and logistics to support placements. He also manages the administration and operations of Kabetech accounts.
Charles joined the financial industry as a short-term insurance underwriter. With his interest and expertise in understanding the world of computers, Charles moved into the IT sector where he gained a wealth of knowledge on WANs, LANs and desktop support. He was then appointed as networks manager to manage a team responsible for the support of the WAN and LAN of 17 branches and a number of satellite branches for Commercial Union.
Charles joined Kabetech after 25 years of IT experience and is committed to ensure consistent service excellence according to your IT and/or recruitment requirements.